The Singapore Unmanned Aircraft Systems (UAS) Community came together for a briefing and focus group discussion on indoor test-bedding and UAS Lab initiatives on 22 January 2020. Organised by AAIS, the event attracted UAS manufacturers and solution providers, end-users including aerospace and non-aviation companies, educational and research institutions, as well as government agencies.
The programme kicked off with a welcome and introduction by Mr Robin Thevathasan of the AAIS Panel of Experts, highlighting challenges of UAS testing in a dense urban environment, and the need for test facilities. Participants then heard from Ms Glory Wee, Director for the Aerospace, Marine & Urban Solutions Cluster at JTC, on its joint initiative with AAIS to provide an indoor testbed for commercial applications of UAS. Located within Seletar Aerospace Park, the facility will have a 600 sqm floor area and 3.5m clear ceiling height and is slated to be operational from February 2020 onwards.
Participants were also introduced to the EcoLabs Centre of Innovation by Programme Director, Mr Mahesh Kumar. EcoLabs aims to help start-ups and SMEs further develop and commercialise clean-energy related innovations by providing support in product and business acceleration. In regards to UAS, EcoLabs is planning to set up a Drone Lab. Participants visited the proposed site for the lab and provided feedback on the requirements for an effective lab set up.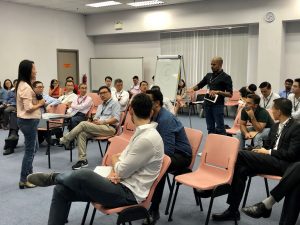 The planned Indoor Testing and Drone Lab facilities will allow UAS businesses to test new drones and technologies for commercial applications. This is in support of UAS development and commercialisation, as well as, certification, and standards. Companies interested to find out more can reach out to AAIS via email to stephanie_lo@aais.org.sg .