In accordance with tightened Safe Management Measures under Phase 2 (Heightened Alert), AAIS staff will be working at home by default between 17 May and 11 June 2021. We will be reachable via email and mobile during regular business hours. For general enquiries, please leave us a message at admin@aais.org.sg. For updates or feedback pertaining to the COVID-19 pandemic, please refer to our COVID-19 microsite. 
Air Freight Logistics Singapore Pte Ltd (Ordinary Member)
Tradenet Services Pte Ltd (Associate Member)
RHTLaw Asia LLP (Associate Member)
Find guidance in times of need via our COVID-19 microsite. Here you will find links to key government and industry information resources, and learn of our support measures for members.
As Singapore moves towards the restoration of international airlinks, AAIS would like to take stock of how members can support. Tell us about any resources you have that can contribute towards a safe re-opening of air travel.
An innovative Aerospace community for a sustainable future
The Association of Aerospace Industries (Singapore) or AAIS, is a not-for-profit, member-based organisation established in 2003, to promote the development of Singapore as a leading aerospace hub.
Upcoming Events & Highlights
As the latest innovation to be applied by the industry, Artificial Intelligence (AI) may well be unprecedented in impact. In this first session of a two-part series on 'Applications of AI in Aerospace' we examined how AI is being applied in MRO planning and operations. Industry experts from Cyient and SIA Engineering Company sharing their insights and experience, and discuss technologies and challenges to integrating AI in MRO.

Watch this Webinar below:

read more
Aerospace Singapore — an industry magazine by AAIS
Get Volume 13 No. 2 today! Read the Feature article and Subscribe Now.
Singapore Aviation Industry Directory
SAID 2020 is out now! Subscribe to receive a hardcopy or find out more.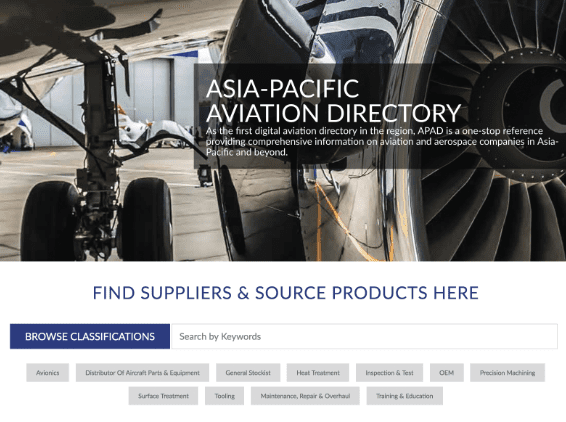 Asia-Pacific Aviation Directory
The Asia-Pacific Aviation Directory (APAD) is a one-stop digital reference for comprehensive information on aviation suppliers and service providers in Asia-Pacific and beyond. Browse, search and review suppliers based on your criteria, needs and location, and make direct and instant contact with companies that fulfil your requirement.
AAIS Digitalisation Programme
The AAIS Digitalisation Programme aims to facilitate the industry's digital transformation, raising the global competitiveness of the Singapore aerospace industry. We do this through platforms that facilitate our members in embarking on their own transformation roadmap.