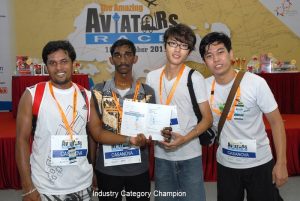 The Association of Aerospace Industries (Singapore) (AAIS) and the Civil Aviation Authority of Singapore (CAAS) came together to organise for the first time The Amazing Aviators Race on 10 December 2011. The event is part of a broader effort by CAAS, AAIS and industry partners to engage youths, with the aim of bringing them into the talent pool that will support the sustainable growth of aviation in Singapore.
The race, flagged-off at the Singapore Aviation Academy, was a fun-filled day of discovery and learning, with participants exploring the aviation industry's vast landscape and rich heritage. 240 participants in 60 teams of students and industry professionals raced through designated aviation sites and locations across Singapore, including Farrer Park (the site of Singapore's first flight), the former Kallang Airport and the Air Force Museum. The race was held in conjunction with International Civil Aviation Day as part of the Singapore Aviation Centennial Celebrations.
The AAIS and CAAS would like to thank Great Eastern for their kind sponsorship to the event, and Goldkili & Frezfruta for being the Official Refreshment Sponsor.
Our winners were rewarded with attractive prizes, including tablets, home theatre systems and iPods!