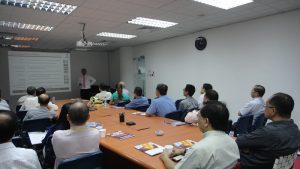 The AAIS and Bureau Veritas co-organised the "Staying Ahead with Aerospace Certification" sharing session on 17 October 2012. Mak Heng Chwin, Business Development Manager, Bureau Veritas, shared on the Aerospace Quality Management System and the AS91xx certification journey.
Patrick Keily, Global Certification Programme Manager, Rolls-Royce plc UK, was present to share on Rolls-Royce's own AS9100 certification journey.
About 30 attendees from various aerospace organisations were present at the session.
The AAIS would like to thank Bureau Veritas Certification for their kind support in co-organising the session with us.
Organisations interested in organising similar events may contact the AAIS at events@aais.org.sg.
Organisations interested in the Aerospace Certification Enhancement Scheme (ACES), which defrays up to 35% (capped at S$25,000) of your consultancy fee and certification cost for adopting AS certification, may contact Elynn Tan at 6922 1783 or elynn@aais.org.sg.