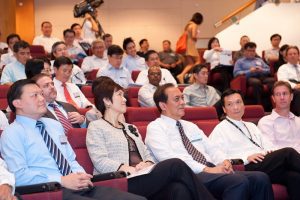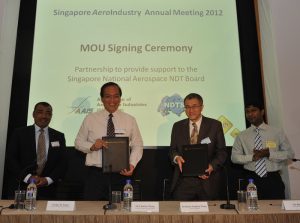 The AAIS launched its theme for the work year 2012 / 2013 – Year of AeroSafety at the Singapore AeroIndustry Annual Meeting (AIAM) 2012 on 17 September. Held at the Singapore Aviation Academy, the event was graced by Guest-of-Honour, Mrs Josephine Teo, Minister of State for Finance and Transport.
Themed "Safety • Quality • Me", AIAM 2012 included a conference to enhance the awareness that Safety and Quality is the responsibility of not just the organisation, but of the individual as well. The event also included a Safety showcase and an Industry Dialogue with Mrs Teo, where she addressed concerns on how Singapore can stay competitive as a leader in aircraft maintenance, repair and overhaul in the region, amongst other issues.
At the event, Mrs Teo presented Certificates of Appointment to members of the Aerospace Safety Steering Committee – an AAIS initiative formed in line with the Association's focus on AeroSafety.
The event also saw the signing of a Memorandum of Understanding (MOU) between the AAIS and the NDT Society of Singapore (NDTSS). The MOU will see both parties providing technical advice and support to the Singapore National Aerospace NDT Board (SNANDTB), including updates on new standards, developments and requirements.
The establishment of the SNANDTB is an initiative by the AAIS. The Board will assist in the professionalisation of aerospace NDT personnel and the harmonisation of overall NDT standards in the industry. A Pro-Tem Board comprising senior management and NDT professionals from the aerospace industry has been set up to establish the Board. Mrs Teo presented Certificates of Appointment to the members of the Pro-Tem Board at the event.
Attended by some 130 professionals, AIAM 2012 also incorporated the 10th Annual General Meeting where new members were presented with their membership certificates.
The AAIS would like to thank all members and participants for their support, as well as the following organisations for their kind sponsorships towards the event:
Main Sponsor: Civil Aviation Authority of Singapore
Gold Sponsors: Singapore Aero Engine Services Pte Ltd (SAESL) and ST Aerospace Ltd