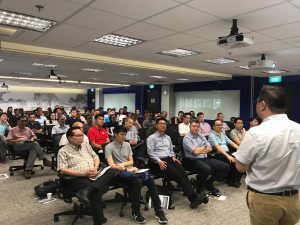 The Singapore Aerospace Quality Group (SAQG) organised a regulatory session for the aerospace quality community on 28 September 2018 at JTC Aviation Two. The event was attended by 67 quality managers and engineers from more than 40 aerospace organisations.
Mr Alan Sim spoke about the robust quality culture adopted by Pratt & Whitney Component Aerospace Singapore Pte Ltd. He shared how it reinforced employees' quality mindset to meet the organisation's mission of building dependable engines.
The highlight of the session was 'EASA Updates' by Mr Luigi G.M. Preti (Maintenance Organization Expert & EASA International Officer in Singapore). His presentation covered the latest changes to Part M and Part 145. It ended with a Q&A session and attendees took the opportunity to seek clarifications on regulatory compliance matters and operations.
AAIS and SAQG extend our deepest appreciation to the speakers for their support!