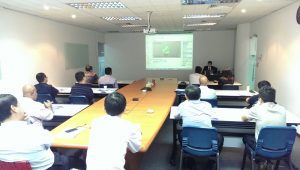 The AAIS in collaboration with Hitachi Sunway Information Systems (Singapore) Pte Ltd, held the Sharing Session – "Manufacturing Excellence in the Aerospace Industry" on 3 October 2013. The Session covered two topics – "Leveraging Smart Solutions to Best Run CNC Machines in Aerospace Industry" and "Tool-Path Optimisation applied to Aerospace Manufacturing Industry".
Mr. Eric Lemaire, Asia Pacific Manager, SPRING Technologies presented and shared on many subjects, such as, how manufacturing solutions can be integrated to secure their aerospace parts, how CNC Machines productivity can be improved, and how machine tool life can be improved via tool-path optimisation.
The session saw participants from 8 organisations. The AAIS would like to thank Mr Lemaire and all the participants for their presence and support to this session, making it a success.