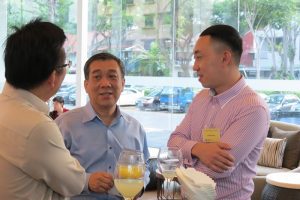 AAIS members and invited guests from the aerospace industry were invited to another HOST Session @The Lookout Gallery at Village Hotel Katong. The location provided a nice atmosphere which set the mood for our guests to network and mingle with each other.
The evening began with a warm greeting speech by Fergus Lopez, Management Committee, the AAIS and was followed by a welcome address from Steven Tang, General Manager, Far East Property Sales Business Group.
Guests were treated to great food, wine and soothing jazz performances throughout the evening. There were two lucky draw sessions and seven lucky winners walked away with food vouchers and hotel stays sponsored by Far East Organization.
More than 60 attendees from various aerospace organisations were present at this event.
The AAIS would like to thank Far East Organisation and all guests for making the HOST Session @ Village Katong Hotel a success.