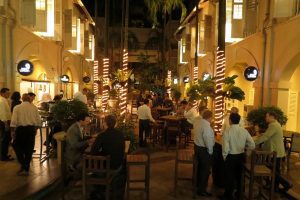 The first HOST Session of 2014 was held on 9 January and the location was the beautiful Beer Tavern at Grand Park City Hall. Guests were encouraged to mingle and network with each other in this relaxed and comfortable setting complete with good food and great company.
The evening started off with a welcome from Tin Ho, 2nd Vice President, AAIS followed by a short slide presentation by Jordan Lee, Senior Sales Manager, Grand Park City Hall. The evening carried on with the guests given a tour of the hotel's suites and grounds.
A lucky draw session was conducted and 3 lucky winners walked away with food vouchers and hotel stays sponsored by Grand Park City Hall. More than 30 guests were present at this HOST Session.
The AAIS would like to thank Grand Park City Happy and all guests for making the first HOST Session of 2014 a success.