The final session of the quarterly held AAIS HOST Networking events for 2017 was held on 7 December at the new Club 5 at Parkroyal Hotel on Kitchener Road. More than 50 senior professionals from the industry came together, to network and soak in some festive cheer.
Attendees were also a special acoustic guitar performance and sing-along by Mr Steven Crummack from Airbus Singapore. Glasses were clinked, stories shared and stronger business linkages made. The event culminated with the ever-popular Lucky Draw, with three participants winning staycation and dining vouchers at the Parkroyal Hotel.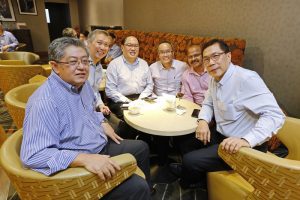 AAIS is pleased to have organised this year-end get together for our members, partners and friends. We thank our guests for their support and attendance, as well as Parkroyal on Kitchener for their generous sponsorship and hospitality.
View more photos of the event here: http://www.aerophotoworks.com/p861196448