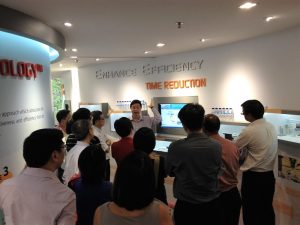 The AAIS held a Breakfast Talk at A*Star on 30 August 2012. Focusing on the Aerospace Productivity Management (AProM) programme, Dr Roland Lim, A*Star, imparted Strategies for Productivity Improvement to Achieve Operational Excellence. Toh Ming Hon, also from A*Star, shared about a Company''s Productivity Improvement Journey. Attendees also heard from Sam Luo, WDA, who provided details on various Funding Schemes.
The Breakfast Talk concluded with a tour to the Manufacturing Productivity Technology Centre (MPTC) and the National RFID Centre (NRC). About 40 attendees from various aerospace organisations were present at the session.
The AAIS would like to thank A*Star and WDA for their kind support in co-hosting the Breakfast Talk with us.
Organisations who are interested in the AProM programme may contact Carmen Beh at 6922 1781 or carmen@aais.org.sg