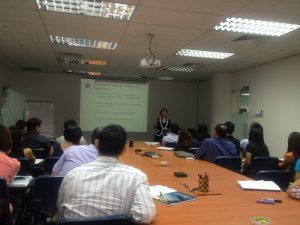 The Annual Aerospace Human Resource Forum took place on 5 July 2013. This forum was organised as part of the AAIS's efforts in continuing the Next Generation Aviation Professionals (NGAP) initiative by the International Civil Aviation Organization (ICAO).
Cheryl Liew-Chng, CEO,  LifeWorkz Pte Ltd presented on thought-provoking topics such as, "The Ideal Employee for the 20th Century vs the Ideal Employee for the 21st Century" and "Enablers and Blockers to Women Entering the Industry". The attendees were encouraged to engage in active discussions throughout the session.
Cheryl also shared that organisations must rethink their human resource management strategies in order to stay competitive in the war for talents especially in the face of shifting demographics.
More than 40 attendees from various Aerospace Companies were present at the event.
The AAIS would like to thank all participants and Cheryl Liew-Chng for making the Annual Aerospace Human Resource Forum a successful event.