It was an exciting morning as AAIS members and senior executives from the industry gathered at the inaugural Aerospace Leaders' Dialogue Singapore 2022. Organised by AAIS as a hybrid event on the sidelines of Singapore Airshow, the focus was on the theme of 'Sustainability, Innovation and Technology for the Future of Aerospace'.
AAIS President Wong Yue Jeen kicked off the proceedings with opening remarks, noting, "A lot has been said about what the industry has experienced over the last two years. Today, we really want to focus on our quest for the future."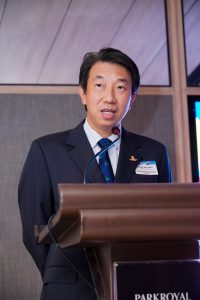 We were privileged to hear from senior industry leaders through presentations and panel discussions. Many important insights were shared on the efforts, developments, and challenges to enabling the aviation and aerospace industries to achieve Net-Zero Emissions by 2050. The discussions touched on corporate priorities on the road to recovery, global sustainability strategies, renewable energies, and advanced technologies.
ALDS 2022, which was held on 17 February, was supported by the Singapore Economic Development Board and live-streamed with the sponsorship of DJET Air. Our deep appreciation to the panel speakers and their staff, and to attendees, both in-person and on live-stream.
Panel of Speakers – ALDS 2022
Dr Valerie Manning 
Senior Vice President, Training and Flight Operations Services
Airbus
Dan Abraham
Senior Vice President of Commercial Sales, Marketing, and Business Development
Boeing Global Services
Kathy MacKenzie
President & CEO, Commercial Engine Operations
GE Aviation
Nicolas Bonleux
Managing Director and Chief Commercial Officer
Liebherr-Aerospace & Transportation
Dr Bicky Bhangu
President, South East Asia, Pacific & South Korea
Rolls-Royce
Watch the Recorded Livestream video below: