The second edition of Aerospace Day was held on 17 April 2019 at Seletar Aerospace Park (SAP). Organised by JTC, AAIS, and the Aerospace Engineering Sector Coordination Team (formed by the 5 polytechnics and the Institute of Technical Education), Aerospace Day aims to provide final-year aerospace students from tertiary institutions with the opportunity to gain early exposure to the industry.
1,000 students were bussed down to the Oval for an open house/carnival. They took part in various aerospace-themed workshops on topics such as 3D printing, drone-flying and glider-making. Students were also encouraged to engage with representatives from SIngapore aerospace companies at the career exhibition and take part in on-site challenges.
With the support of over 30 aerospace companies, students were given access to visit aerospace facilities, including repair shops and production floors. Participating companies, all located withing SAP,  included Bombardier, Jet Aviation, Moog Aircraft Services Asia, Pratt & Whitney, Rolls-Royce, and ST Engineering Aerospace. The shop floor walks allowed students to experience, first-hand, the working environment and breadth of available opportunities in the industry.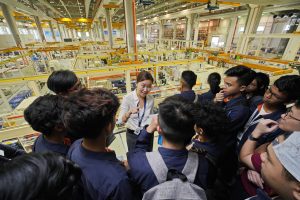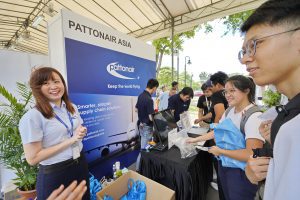 Students also participated in the lucky draw, which saw winners walk away with prizes such as aircraft and landing gear models sponsored by Avimac, Liebherr-Singapore and Schaeffler Singapore.
This year also marked the first time that 200 mid-career professionals were invited to be part of the career exhibition via a partnership with the Employment and Employability Institute (e2i).
This event is the largest industry-specific student outreach programme in Singapore. AAIS was proud to jointly organise this initiative as part of our collective efforts to engage students and inspire the next generation of aerospace professionals.