As has become tradition during the Lunar New Year, AAIS organised Aerospace Community Day 2020, which saw the aerospace industry hosting some 100 seniors from four homes to a festive new year lunch.
The seniors, from the Bright Hill Evergreen Home, Lee Ah Mooi Old Age Home, St John's Home for the Elders and Thong Teck Home, enjoyed a sumptuous Chinese spread, starting with the traditional tossing of the Yu-Sheng for good fortune. The MusicMix band and singers also returned to entertain the audience with English, Mandarin, Cantonese and Hokkien tunes from yesteryear. Seniors and volunteers also got into the festive spirit, with the team from Pratt & Whitney taking to the stage to perform "Gong Xi Gong Xi" and Hokkien classic, "Ai Pia Cia E Ya".
Lunch concluded with the distribution of mandarin oranges and ang baos (red packets), to the gratitude and warm smiles of the elderly.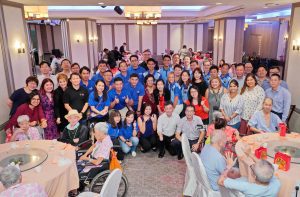 On behalf of the beneficiaries, AAIS would like to thank the following companies and individuals for their invaluable contributions:
Barrett Aerospace Pte Ltd
Boeing Asia Pacific Aviation Services Pte Ltd
CK Shipping (S) Pte Ltd
ECK Pte Ltd
Oriental Aviation International Pte Ltd
Pattonair Asia Pte Ltd
Satair Pte Ltd
Singapore Aero Engine Services Pte Ltd
Wencor, LLC (Singapore Branch)
Mr Ivan Ho – Airbus Singapore
Mr Eddy Eyo – W.H. Brennan & Co
Mr Gerald Teo – Snap-on Tool Singapore Pte Ltd
Staff from Turbine Overhaul Services Pte Ltd
Ms Mary Tan
We also extend our appreciation to the Grand Mercure Roxy Singapore and the Roxy Foundation for their support and facilitation. The group effort truly made it a smooth and successful event!
We look forward to organising more of such activities in future, with the support and encouragement from the aerospace community.
View more photos from the event here: https://www.aerophotoworks.com/p34360570