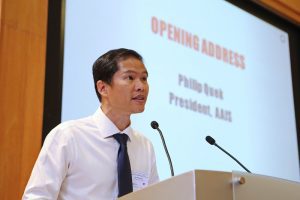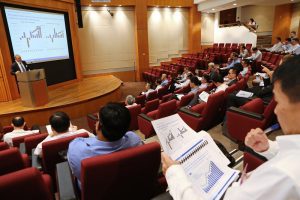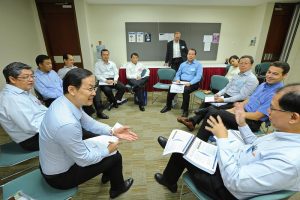 Held after the AGM, the AIAM brought together senior members of the aerospace industry for an afternoon of information-sharing and discussion on the upcoming trends and projections of the aerospace industry. The event saw the release of the findings from the Singapore MRO Competitiveness Study 2014, which was commissioned by AAIS with support from the Civil Aviation Authority of Singapore, the Economic Development Board and the Singapore Workforce Development Agency.
The AIAM was kicked off with Opening Remarks by newly installed AAIS President Mr Philip Quek, who shared on the outlook of the global and domestic aerospace industry, including the labour projections, potential weaknesses and market gaps as well as government initiatives to address these challenges. Following the opening address, Mr David Stewart, Vice President of ICF International – the appointed consulting and research firm – presented findings of the Study which benchmarked Singapore's competitiveness as an aerospace hub against other country hubs such China, Hong Kong, Malaysia and the UAE. Mr Stewart also shared recommendations to strengthen Singapore's position as the leading aerospace MRO hub in the Asia Pacific region.
After the presentation, the participants broke out into focus groups to discuss and gave their feedback on the findings of the Study.
The AAIS thanks Mr David Stewart, all AIAM 2015 participants and our four FGD facilitators – Assoc. Prof. Lim Yeow Khee, Assoc. Prof. Tan Joo Seng, Mr Jeremy Chan and Mr Koh Pak Keng, for generously contributing your time, perspectives and experience to make this AIAM an interactive and fruitful one.