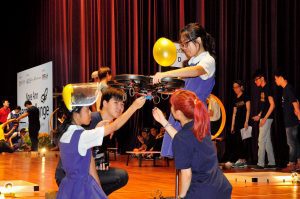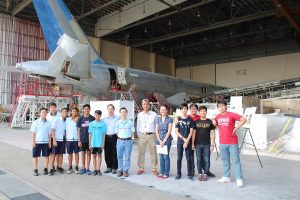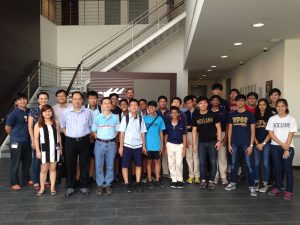 In partnership with Ngee Ann Polytechnic (NP), Aero Challenge 2014 was organised for secondary school students on 30 July 2014. With participation from more than 70 teams from various secondary schools, the turnout of the event more than doubled the previous year's.
The aim of the competition was to design and fly a quadcopter that could pick and drop a payload at designated obstacles. Trained by NP student mentors, teams consisted of a pilot, co-pilot and an air traffic controller. The pilots were in charge of controlling the quadcopter using a flight application on either their smartphone or tablet, while the air traffic controller navigated and issued directional instructions to the pilots.
The competition was an enriching and exciting experience for the students, as they learned to employ creativity in designing their quadcopters, while acquiring technical skills and knowledge in radio-controlled flying.
Results:
Gold

–

School of Science and Technology (Team 4)
Silver

–

Northbrooks Secondary School (Team D)
Bronze

–

Bendemeer Secondary School (Team 1)
School of Science and Technology (Team 3)
Northbrooks Secondary School (Team E)
Woodlands Ring Secondary School (Team 3)
The winning teams were invited by AAIS to attend site visits to 5 aerospace organisations, which include Jet Aviation (Asia Pacific), Meggitt Aerospace, P&W Component Solutions, RLC Group (Singapore) and ST Aerospace Engineering on 4 September 2014.
Students had the opportunity to learn more about the technology behind modern aircraft and components, and also about the different facets of the local  aerospace industry. We would like to express our appreciation to the organisations in their effort in continuing the Next Generation Aviation Professionals (NGAP) initiative by the International Civil Aviation Organization (ICAO).