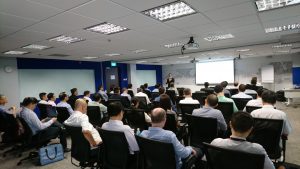 A roundtable meeting of the Additive Manufacturing (AM) community was held on 24 July 2018 at AAIS offices, in a collaborative effort between AAIS, CAAS, National Additive Manufacturing Innovation Cluster (NAMIC) and Workforce SG.
Some 50 participants were present, representing aerospace OEMs, equipment manufacturers, material suppliers, 3D printing services, special processes services, test services, and education/research institutions. The roundtable discussed a proposed Joint Industry Programme and explored possible opportunities for collaboration.
Participants agreed to meet quarterly as a community, for knowledge-sharing and to promote collaboration. There was a shared desire to accelerate capability building and the industrialisation of AM in Singapore for aerospace applications.