In alignment with growing interest and emphasis on safety, the Association of Aerospace Industries (Singapore) organised its first AAIS Industry Safety Week from 14 to 18 November 2022. The inaugural AAIS Industry Safety Week saw over 70 organisations from aerospace, aviation and other industries participating in various activities, including seminars, webinars, and site visits for cross-learning of best practices. During the week-long event, AAIS members were encouraged to hold internal safety awareness campaigns in sync with industry peers. The Association also launched a Safety Microsite (www.aais.org.sg/safety) as a repository of resources to augment the internal efforts of members and facilitate industry sharing on safety practices.
Making Safety Our Top Priority
With the recovery of air travel, Singapore's air transport workforce has been largely restored and is expected to reach 90% of pre-COVID levels by the year-end. Aerospace activities have also turned the corner with domestic aerospace production exceeding pre-pandemic levels by March 2022 and output growth recorded at over 16% higher than 2019 (baseline) levels in September. This positive sentiment is expected to continue in the coming months, with most Singapore-based aerospace companies foreseeing growth to improve in terms of output, new orders, exports, and employment.
As the tempo of operations continues to pick up, an influx of fresh talents is expected who will need to be familiarised with safety practices and considerations. At the same time, experienced personnel will benefit from consistent refreshers to remain up-to-date and keep safety protocols top-of-mind. There are also new considerations in the post-pandemic landscape such as the upkeep of aircraft, especially those kept in storage, the introduction of new technologies as well as changes to the operating environment. In this spirit, AAIS called upon its members to renew and reiterate the commitment to safety at all levels through the inaugural AAIS Industry Safety Week.
AAIS Safety Industry Week Activities
i. Aviation Safety: In conversation with CAAS and Aerospace Leaders
To kick off Safety Week, AAIS held a hybrid seminar on 14 November to discuss aviation safety in aerospace MRO and manufacturing. The event featured industry leaders including Mr Oliver Chamberlain, Manufacturing Executive, Rolls-Royce Singapore, and Mr Mark Loh, General Manager, Bell Textron Asia, as well as a representative from the Civil Aviation Authority of Singapore (CAAS), Mr Leong Chin Sing, Senior Manager (Maintenance Organisation).
The speakers provided insightful perspectives on safety policies and implementation, as well as best practices for MRO and aerospace organisations. Particularly interesting were their personal anecdotes on the motivation for underscoring safety, as well as the differences in safety cultures across organisations and countries. The speakers noted the importance of continual improvements in safety management and called for collaborative efforts to improve aviation safety awareness. Participants engaged the speakers during the panel discussion on topics such as integrating safety in aerospace curricula, ramping up on safety training, and the role of regulators in safety management.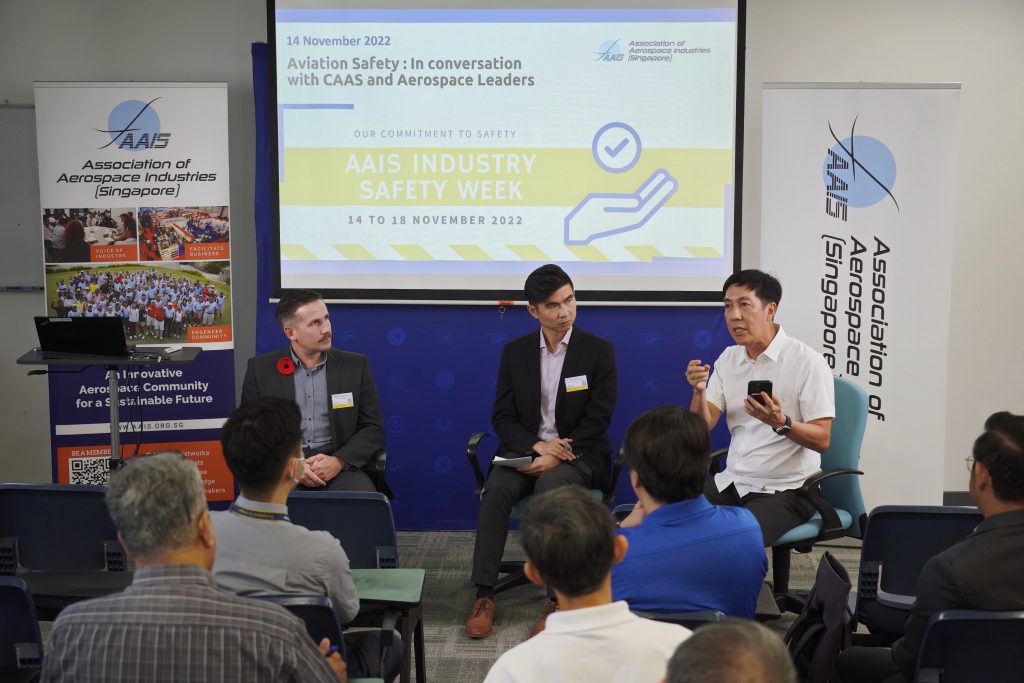 ii. Visit to SIAEC's Aviation and Workplace Safety Promotion Centres
AAIS Management Committee members and their safety officers were invited to visit the SIA Engineering Company (SIAEC) safety promotion centres on 15 November. Participants were brought on interactive tours around the Aviation Safety Promotion Centre and the Workplace Safety Promotion Centre. These centres were established by SIAEC to augment safety training programmes for its staff with the aim of reinforcing workplace safety culture and mindset.
Participants were impressed with the scope and quality of the Aviation Safety Centre, which included immersive media, informational displays and interactive activities. The Workplace Safety Promotion Centre also offered an integrated learning environment combining classroom-based lessons and experiential and visual learning for participants. We thank SIAEC for supporting AAIS Industry Safety Week and for hosting the visit.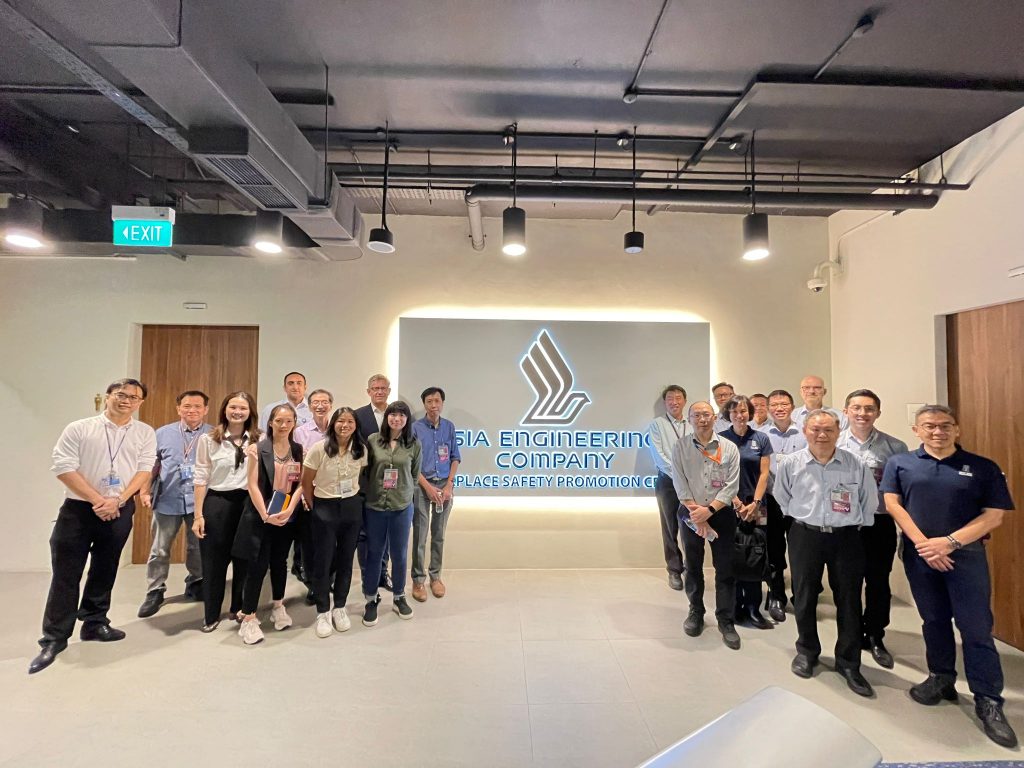 iii. Advancing WSH: New Code of Practice + Data-Driven Risk-Based Approach
A webinar was held on 17 November to provide updates on workplace safety and health (WSH) practices. The keynote speaker was Mr Christopher Koh, General Manager of the Singapore WSH Council. He provided a briefing on a new code of practice (COP) which details duties of company CEOs and directors on WSH. The new COP, gazetted in October 2022, applies to Singapore companies in all industries, covering not only the physical but also mental well-being of workers.
This briefing was followed by a rich presentation on 'A Data-Driven Risk-Based Approach to WSH Management' by Mr Lim Sui Soon, Executive Committee Member at the Singapore Institution of Safety Officers (SISO). The approach provided a new perspective, encouraging organisations to analyse key causal factors of incidents based on WSH data and develop mitigating methods in managing these high-risk factors.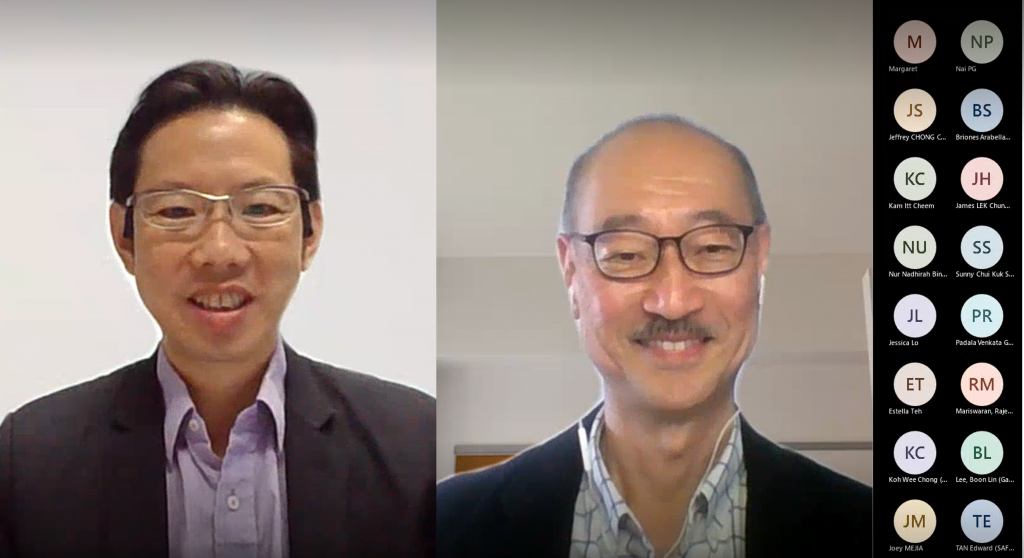 iv. Launch of AAIS Safety Microsite
A key element of AAIS Industry Safety Week was the opportunity for cross-learning through platforms for sharing between members, industry leaders, regulators, and safety professionals. To promote knowledge/resource sharing and exchange between members of the industry ecosystem, AAIS launched a curated Safety Microsite (https://aais.org.sg/safety) in conjunction with Safety Week. The AAIS Safety Microsite serves as a repository of safety resources and includes messages by Mr Tay Tiang Guan, 1 Deputy Director-General at CAAS and Mr Wong Yu Jeen, AAIS President, as well as posters, articles, guidance documents, activities and other safety-related collaterals.
The AAIS Safety Microsite will be available beyond Safety Week. We welcome all to visit and utilise the resources and look forward to further contribution of materials from industry members.
v. Special Discount for AAIS Safety Training Courses
Safety training is crucial to ensure workers have a solid knowledge of safety associated with their jobs. In conjunction with AAIS Industry Safety Week, the Association is offering a discount of 25% off training fees for a second participant for the following training courses:
Introduction to Safety Management System (Virtual or In-Person)
Effective Event Investigation Training (Virtual on In-Person)
Fundamentals to Aerospace Quality Management System (Virtual or In-Person)
Compliant Safety Management Systems for Aerospace (Virtual)
Logistics and Stores Inspection Procedures for Aerospace (Virtual)
Effective Stores Management for Aerospace (Virtual)
Quality Systems and Audit Management (Virtual or In-Person)
Human Factors and Error Management (In-Person)
The offer is valid for any of the above-titled courses ending by or before 30 June 2023, subject to minimum class size. Quote "AAISSafety" to enjoy the discount.
Visit our website at www.aais.org.sg for more information 
Moving Forward Together with Safety in Mind
The first AAIS Industry Safety Week concluded successfully with positive feedback on the activities organised. Safety is for all industries, and we were especially pleased to welcome organisations beyond the aviation and aerospace industries at the various events, including representatives from maritime, oil & gas, electronics etc.