On Saturday, 16 March 2019, a crowd of almost 200 players, supporters and friends gathered at the Premier Pitch at Turf City for the annual AAIS Futsal Tournament. The event saw the participation of 24 teams from organisations and businesses across the aerospace industry, all vying for a brand new Championship trophy.
The tournament saw spirited competition between teams right from the very first whistle. After an exhilarating round robin, the semi-finals saw a team from SAESL pitted against Pratt & Whitney (TOS), and Rolls-Royce against SIAEC. A superb penalty save by SAESL's "gloveless goalie" paved his team's way towards the finals. In the other match, team Rolls-Royce blazed their way to victory to secure a podium position.
The Finals game came to a draw, and was ultimately decided by a nail-biting penalty shootout. Once again SAESL's goalkeeper, Ahmad Shaza Baylan, performed miracles with his gloveless hands, with two saves against Rolls-Royce. With that, SAESL was crowned champions of the AAIS Futsal Tournament 2019, with Baylan earning the well-deserved "Most Valuable Player" title.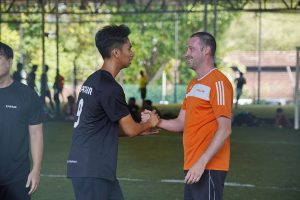 We thank all in attendance for your participation and support. Hope to see you at our next events!
View more photos from the tournament HERE.