Into its 12th edition, AAIS held its annual bowling tournament at Orchid Country Club. The tournament attracted a total of 27 teams from 17 companies.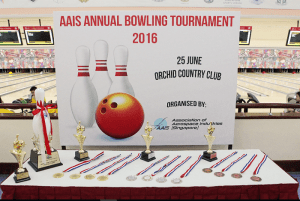 Here are the results:
Prize Winners
Category
Company Name
Team Name
Score
Team Champion
ST Aerospace
ST Aero 1
2005
1st Runner-Up
SIA Engineering Company
SIAEC
1941
2nd Runner-Up
ST Aerospace
ST Aero 3
1935
Category
Company Name (Team Name)
Name
Score
Best Male Individual
ST Aerospace (ST Aero 2)
Ong Cheng Koon
576
Best Female Individual
ST Aerospace (ST Aero 3)
Jaslene Koh
476
Highest Game Score Prize
Gender
Company
Team Name
Name
Game Score
Pot
Male
SIA Engineering Company
SIAEC
Poh Siew Por
206
$220
Female
ST Aerospace
ST Aero 3
Jaslene Koh
185
$40
Click here for the full tournament results.
Click here to view photos of the event. ​