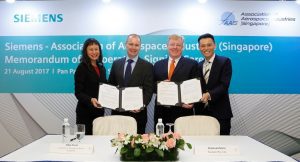 AAIS and Siemens signed a Memorandum of Cooperation (MOC) on 21 August 2017 to promote innovation and drive digital transformation of the aerospace industry in Singapore.
While industry players, including manufacturers, are keen to ride the opportunities arising from growing demand for air travel, cost remains a factor in uncertain business environment and economic times. Globalisation has also led to fiercer competition as well as ever-changing industrial landscape, creating the need to expect quick return on investments. Hence, companies have to assess their current business strategy and implement solutions that would enable them to stay ahead of the competition locally and globally.
Under the MOC, AAIS and Siemens will jointly organise a range of activities to educate AAIS members on the topic of digitalisation, encourage the implementation of new technologies and equip them with the knowledge to do so. Through seminars, authored articles, site visits and workshops, Siemens will offer its technical expertise to the participants and provide real-life demonstrations via its products and services.
The MOC was signed by Mr Allan Ferrie, Vice President of AAIS, and Mr Raimund Klein, Executive Vice President for Siemens ASEAN, Digital Factory and Process Industries and Drives.