The 17th Annual General Meeting of the Association of Aerospace Industries (Singapore) was held on Friday, 20 September 2019, at Village Hotel Changi.
In his opening address to members, AAIS President Mr Philip Quek noted that the Association has continued to focus on creating value and helping members prepare for the future. He cited examples such as the Digitalisation Programme, the Additive Manufacturing Joint Industry Innovation Programme and the establishment of the Singapore Unmanned Aircraft Systems Community. Mr Quek added that the industry was doing well, with good record of growth and new investments announced by Thales, GE Aviation, Bombardier, Collins Aerospace and others. However, with uncertainties on the global political and economic fronts, he encouraged all to be vigilant about mitigating the impact and to focus on enhancing our competitiveness.
Members present endorsed the FY2018/19 Annual Report and Financial Statements and agreed unanimously to reappoint Mr Paul Sandosham of Clifford Chance as the Honorary Legal Advisor and Ernst & Young as the Honorary External Auditor. Proposed amendments to the AAIS Constitution were also accepted by members.
In recognition of their contributions and service to the Association and the aerospace community, tokens of appreciation were presented to three long-serving members of the Management Committee who were stepping down. They were Mr Ricardo Pesce of Embraer Asia Pacific Pte Ltd, Mr Chow Kok Wah of Singapore Institute of Aerospace Engineers and Mr Lien Whai Cheng of Coway Engineering & Marketing Pte Ltd.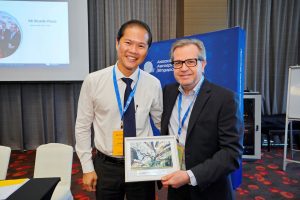 The AGM also saw the election of the 12th Management Committee, to serve from September 2019 to September 2021. The following were the results of the elections:
President: Mr Philip Quek, SIA Engineering Company Ltd
1st Vice President: Mr Richard Wong, Pratt & Whitney Turbine Overhaul Services Pte Ltd
2nd Vice President: Mr Michael Doellefeld, Boeing Asia Pacific Aviation Services Pte Ltd
Management Committee Members
Mr Rahul Shah, AAR International Inc
Mr Philip Sung, Auxitrol Weston Singapore Pte Ltd
Mr Koh Pak Keng, ECK Pte Ltd
Mr Ekkehard Pracht, Liebherr-Singapore Pte Ltd
Mr James Partington, Rolls-Royce Singapore Pte Ltd
Mr Matthieu Pere, Safran Electronics & Defense Services Asia Pte Ltd
Mr Philip Ang, Singapore Aero Engine Services Pte Ltd
Mr Jimson Ngiam, Thales Solutions Asia Pte Ltd
Ms Lim Hee Joo, Wah Son Engineering Pte Ltd