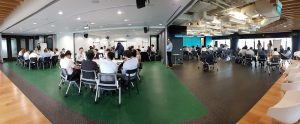 Together with the Singapore Economic Development Board (EDB), AAIS organised a forum on the Industry Transformation Map for Aerospace on 10 April 2017. The event saw the participation of more than 70 C-Suite leaders of aerospace OEMs, large suppliers, support services and solution providers.
The event was conceived as a platform for members of the industry to provide valuable ideas for incorporation into the ITM.  EDB's director for Transport Engineering, Mr Tan Kong Hwee, addressed the forum and attended the discussions throughout the morning. Attendees broke into groups for discussions on competitiveness, business and technology trends and the industry ecosystem. They were facilitated by members of the AAIS Panel of Experts, Management Committee and industry veterans.
Work on the Aerospace ITM began late last year with EDB leading the efforts with support from other government agencies. Consultations with industry have started since 2015 with various relevant workstreams, and especially for the development of the Singapore SkillsFuture Framework for Aerospace and productivity initiatives.
AAIS was pleased to have been able to facilitate this dialogue for the industry's voice to be heard. We thank our focus group Facilitators, members and guests, as well as the EDB Aerospace team for generously giving time for the discussions.
The Aerospace ITM is expected to be rolled out in late 2017. Inputs from this session will be consolidated for EDB.