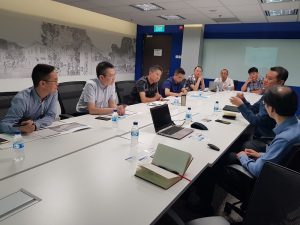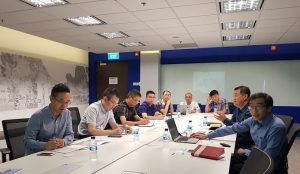 AAIS welcomed a delegation from the Chongqing Airport Economic Development Department to Seletar Aerospace Park (SAP) on 26 June 2018. The delegation, led by Mr Yin Huawei, Party Secretary, Director and Chairman of Chongqing Airport Economic Development Co Ltd, was received by AAIS Chief Executive, Mr Sia Kheng Yok and Singapore Institute of Aerospace Engineers Consultant, Mr Darrel Chua.
The delegation was keen to understand the land development and planning considerations for the aerospace industry in Singapore.  They sought insights into how the Singapore government supports business development through its various programmes and how it develops talent for the aerospace industry. They also expressed interest in exploring collaborations with Singapore-based companies and in working with AAIS on business missions to Chongqing.
In return, the delegation shared their land development plans for the Chongqing Jiangbei International Airport area.
AAIS is pleased to have facilitated this visit and we look forward to more of such exchanges.