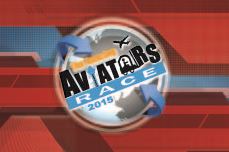 On Saturday 5th September 2015, 300 participants in 75 teams raced around Singapore in the Amazing Aviators Race (TAAR) 2015. The Race was flagged off by Minister of State for Trade and Industry Mr Teo Ser Luck from the new Singapore University of Technology and Design (SUTD) campus in Changi. The one-of-a-kind Flag Off saw a colourful aerial spectacle as MOS Teo, all participants and invited guests simultaneously launched self-assembled Styrofoam aeroplanes, popularised in the early nineties, to signify the start of the event.
This was only the second time the event has been held since its inaugural run in 2011 and one of the biggest public events organised by AAIS. Held in conjunction with the SG50 celebrations, TAAR 2015 was part of AAIS's greater efforts to engage youths and the general public while promoting a greater understanding of the aerospace and aviation industry through a journey of discovery around Singapore.  The participants took part in teams of four under two team categories – the Student Category (for students aged 15 and above) and the Open Category (for industry members and the general public).
Modelled after the "Amazing Race" concept, teams raced around the island to find iconic locations based on the clues they were given. As an added challenge, teams could only travel using the public transport network of buses and the MRT. At these stations, they encountered "Detours" and "Road Blocks", where they had to complete tasks related to aerospace/aviation, our national identity and our rich cultural heritage.
TAAR 2015 received very positive feedback from the participants, who enjoyed themselves despite the long and eventful day. AAIS would like to take this opportunity to once again thank MOS Teo Ser Luck for gracing the Flag Off, and all TAAR 2015 participants for making the event a big success! A big THANK YOU also to the event management team from Adrenalin and to all our sponsors for the strong and forthcoming support. We would not have been able to do it without you!
Congratulations to the Winners of TAAR 2015!
Open Category
Place
Winning Team
Prize Sponsor
1st
Drama Mama
Canon Singapore Pte Ltd
2nd
Oh Man!
Canon Singapore Pte Ltd
3rd
Pillows
GVDEAL Pte Ltd
3rd Runner Up
CRO
The Coffee Bean and Tea Leaf
Student Category
Place
Winning Team
Institution
Prize Sponsor
1st
AEROBirds
Temasek Polytechnic
Canon Singapore Pte Ltd
2nd
ATTC
Air Transport Training College
Canon Singapore Pte Ltd
3rd
NPAT
Ngee Ann Polytechnic
GVDEAL Pte Ltd
3rd Runner Up
RP Time Travellers
Republics Polytechnic
The Coffee Bean and Tea Leaf