Close to 13,000 trade attendees from more than 39 countries/regions; representing more than 70% of the top 20 global aerospace companies congregated at Singapore Airshow 2022 to expand partnerships, networks and business opportunities across the world.
The Singapore Pavilion featured a great selection of SMEs representing a diverse cross-section of the local ecosystem. Capabilities showcased include parts design, leasing, surface treatment and special processes, aircraft ground services, specialised unmanned aircraft systems, digital solutions, and others.
Singapore Pavilion exhibitors:
ACP Metal Finishing Pte Ltd
Airtec Corporation (Asia) Pte Ltd
Alpsun Pte Ltd
Apps-Connect Pte Ltd
CBMM Supply Services and Solutions Pte Ltd
Diamond Aviation Pte Ltd
Hope Technik Pte Ltd
Hypercoat Enterprises Pte Ltd
iHawk Global Pte Ltd
Transfingo Aviation Solutions Pte Ltd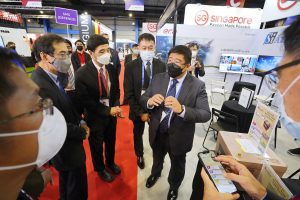 Download the Singapore Pavilion @ Singapore Airshow 2022 Exhibitor Directory
Among the VIPs who visited, we were pleased to welcome Minister of Transport S Iswaran, SMS Defence Heng Chee How, Chief Defence Scientist Tan Peng Yam, Chief of Defence Force LG Melvin Ong and Chief of Navy RADM Aaron Beng on 15 February, as well as JTC Chairman Tan Chong Meng, CEO Tan Boon Khai, and JTC Board members on 16 February.
View more photos of VIP visits and the Singapore Pavilion exhibitors at the Aerophotoworks gallery.