Launched in February 2008, AeroSpace Singapore is a tri-annual publication covering the aerospace industry in Singapore as well as the region. It is a specialised magazine covering important issues of economic, commercial, legal, managerial and operational aspects of the industry. Its contents focus on current affairs, technological advancements, and new products and services. There are also sections devoted to space technologies, defence, SMEs in the industry, training and youth outreach,as well as lifestyle.
Today, AeroSpace Singapore has established itself as a valuable information source, and an important business link between suppliers and users of aerospace components and services, with adequate space for business development and marketing opportunities. The magazine's reach has also expanded, with copies also being distributed at major events such as the Singapore Airshow.
AeroSpace Singapore is available on a subscription basis both locally and overseas.
Subscribe today! Student subscriptions are also available.
​Contact us for any advertising enquiries! 
Interactive Digital Edition
Download a copy of our special
INTERACTIVE DIGITAL EDITION of Vol 9 No 1, absolutely free!
Step 1: In the App Store, search for "Singapore Aerospace".
Step 2: Download the App.
Step 3: Launch the App and download AeroSpace Singapore Vol 9 No 1.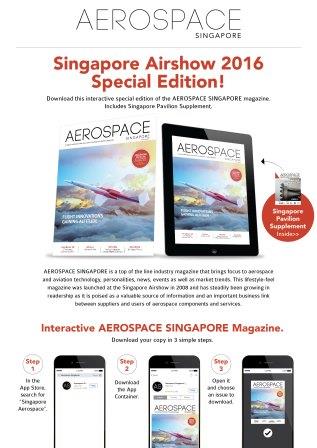 AeroSpace Singapore Past Issues
Latest Print Issue Out Now!