MRO Asia Pacific returned to Singapore from 31 October to 2 November 2017 at the Singapore Expo. The conference and exhibition brought in more than 5,000 registered industry professionals and drew representatives from 61 countries.
The Conference line-up featured close to 90 airline and industry speakers, covering a wide range of business and technology topics. AAIS Chief Executive Mr Sia Kheng Yok chaired the "MRO State of the Industry" panel session, with speakers Mr Ang Chye Kiat (EVP Aircraft Maintenance and Modification, ST Aerospace), Mr James Barrington (Group Director Airframe Services, HAECO) and Mr Sonny Stern (VP Sales and Customer Service, Delta TechOps). The session, which followed "10-year Market Analyses" presentations by Oliver Wyman and ICF International, was presented to a packed hall with some estimated 300 senior executives of the industry in presence.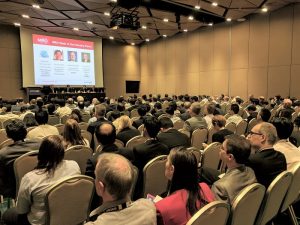 AAIS also managed the Singapore pavilion at the MRO Exhibition, which grew from 21 participating companies in the previous year to 28 companies in 2017. The pavilion was a hit at the exhibition, enjoying a great location and good volume of foot traffic.
Singapore Pavilion Exhibitors at MRO 2017
Aerospace Quality Supplier Pte. Ltd
Airbus Group Singapore Pte Ltd
Aircraft Support Industries (Singapore) Pte Ltd
Ban Chu Leong Technologies Pte Ltd
Bollore Logistics Singapore Pte Ltd
BSB Aviation LLP
Coway Engineering & Marketing Pte Ltd
CW Aero Services Pte. Ltd
Dymax Asia Pacific Pte. Ltd
Dynaron Enterprises Pte. Ltd
Esterline Sensors Services Asia Pte. Ltd
Fischer Instrumentation (S) Pte Ltd
Hawker Pacific Asia Pte Ltd
Hydro Systems Singapore LLP
IXTEQ Singapore Pte Ltd
JCS-Vanetec Pte Ltd
Magellan Aviation Singapore Pte Ltd
Matrix Technlogical Services Pte Ltd
NDT Instruments Pte Ltd
Ontic Engineering and Manufacturing Asia-Pac Pte Ltd
Orapi Applied (S) Pte Ltd
Pattonair Asia Pte Ltd
Regent Aerospace Singapore Pte Ltd
Rhinestahl Singapore Pte Ltd
Singapore Aero Engine Services Pte Ltd
Transfingo Pte Ltd
Vector Aerospace Asia Pte Ltd
H. Brennan & Company Pte Ltd
View photos from the event here: http://www.aerophotoworks.com/p96655746
Watch highlights from Day 1 of the exhibition here: https://www.facebook.com/aero.sg/videos/1708731295804252/ 
The Singapore Pavilion was
Organised by:

Supported by: