AAIS organised an informal dialogue with Mr Patrick KY, Executive Director of the European Aviation Safety Agency (EASA) for its members. Held on 12 October 2017, the event saw the participation of representatives from 30 EASA-certified companies in Singapore.
Facilitated by AAIS, the dialogue also included Mr Luigi PRETI, EASA Continuing Airworthiness (Maintenance) Organisation Team Leader and Mr Frank Manuhutu, EASA Representative for Singapore and Southeast Asia. Participants touched on a wide range of topics including EASA's role in the region, its cooperation with the Civil Aviation Authority of Singapore, the impact of Brexit, and how regulation can support industry innovation.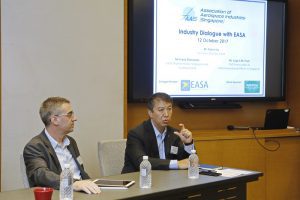 The dialogue was held a day after the official opening of EASA's regional office in Singapore. Singapore is home to EASA's fourth regional office after Washington, Montreal and Beijing.
AAIS was delighted to provide this engagement platform for our members and EASA. Our deepest appreciation to Mr Patrick Ky, the EASA team, and members for taking the time to join us at this session.