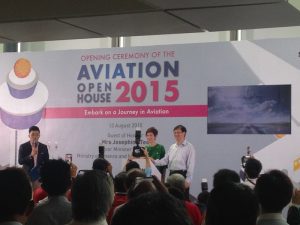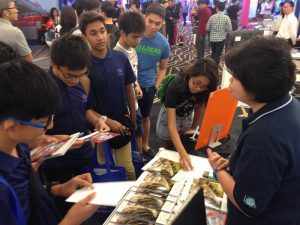 AAIS was present at the Aviation Open House (AOH) 2015 held at Suntec City Convention Centre from 13 to 15 August 2015. This is the fourth time that the AAIS has been invited by the Civil Aviation Authority of Singapore to participate in the biennial event. Launched by Mrs Josephine Teo, Senior Minister of State, Ministry of Finance and Ministry of Transport, the theme of AOH for the year was "Embark on a Journey in Aviation".
The AOH 2015 provided a platform for students, job seekers and mid-career entrants to learn more about aviation education and career opportunities via career talks, a showcase featuring eight aviation professionals, interacting with representatives at the exhibition booths, onsite recruitment by e2i and other interactive games. The event saw the participation of more than 47 aviation-related organisations and Institutes of Higher Learning (IHLs) as well as companies from the aerospace, airline, airport, air navigation services sectors.
AAIS used this opportunity to distribute the AeroCareer Guide 2014/15, promote The Amazing Aviators Race 2015 and encourage the sign-up for e-copies of AeroSpace Singapore Magazine. Once again, the AAIS was honoured to be part of the AOH 2015 and do our bit for the future of Singapore's aerospace and aviation industry!