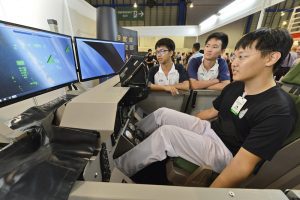 The Aerospace Industry Induction Programme (AIIP) offers students an insight into the vibrant and diverse aviation industry, and a better understanding of Singapore's position as the leading aviation hub in Asia.
Organised by AAIS with support from CAAS and EDB, the fifth edition of the AIIP culminated with a visit to the Singapore Airshow 2016. Over 1,400 students from 18 institutions were transported to the Airshow grounds on Thursday, 18 February.
The AIIP participants were given student packs which included the AIIP Programme Booklet (with guided route map), an AIIP Student Quiz and goodies from the Airshow. They were presented with a range of education and career opportunities in the growing aviation industry and had the opportunity to visit the inaugural Singapore Airshow Aero Campus (SAAC). They also explored the static aircraft display area and enjoyed the captivating aerobatic flying display.
The AAIS thanks all teachers and staff for their time in making this programme a success and the joined effort in attracting the Next Generation of Aviation Professionals (NGAP). A very special thank you, too, to the CAAS Youth Aviation Ambassadors (YAAs) for their help in facilitating the secondary school students! We look forward to the next edition of the programme.
AIIP – Participating Schools:
| | |
| --- | --- |
| Changkat Changi Secondary School | Hwa Chong Secondary School |
| Hillgrove Secondary School | Northbrooks Secondary School |
| Nanyang Girls' High School | Woodlands Secondary School |
| East View Secondary School | Mayflower Secondary School |
| Commonwealth Secondary School | Ngee Ann Polytechnic |
| Nanyang Polytechnic | Republic Polytechnic |
| Singapore Polytechnic | Temasek Polytechnic |
| ITE College Central | National University of Singapore |
| Singapore Institute of Technology | Singapore Institute of Management University |