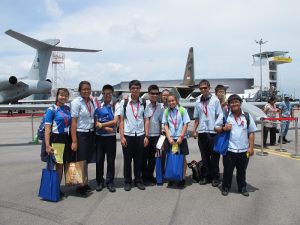 The AIIP 2014 is the 4th edition organised by the AAIS, CAAS and EDB with the aim of attracting the Next Generation of Aerospace Professionals (NGAP) to join and be part of this industry. One of the highlights of the AIIP is a visit to the Singapore Airshow. This opportunity is one that presents to students the extent and magnitude of the global aerospace industry and Singapore's position as the leading aerospace hub in Asia.
A total of 839 students from 13 institutions (Bendemeer Secondary School, Hillgrove Secondary School, Northbrooks Secondary School, North Vista Secondary School, Northland Secondary School, Ngee Ann Polytechnic, Nanyang Polytechnic, Singapore Polytechnic, Temasek Polytechnic, Nanyang Technological University, National University of Singapore, Singapore Institute of Technology and Singapore University of Technology and Design) attended the AIIP on 14 February 2014, were accompanied by the CAAS Youth Aviation Ambassadors (YAAs) and their teachers/lecturers.
Goodie bags included the latest AeroCareer Guide 2014/15, AeroSpace Singapore Magazine – the Singapore Airshow issue. AIIP Programme Booklet (with guided route), AIIP Student Quiz, AIIP Remove-before-flight keychain were distributed to the students.
The students were encouraged to complete a quiz in exchange for an AIIP Pen Set, and to capture images of Singapore Airshow and post on social media with the hashtag #AIIP_SG in order to win a limited edition aircraft model.