The first AAIS HOST Networking Session for 2017 was held on 23rd February at the Terminal Café Lounge. The event attracted over 40 senior executives and professionals from the industry. Located within Airbus Asia Training Centre, the Terminal Café Lounge is one of several new F&B additions to Seletar, serving specialty cuisine inspired by the flavours of Italy.
The evening kicked off with welcome remarks from AAIS Chief Executive Sia Kheng Yok and General Manager of Airbus Asia Training Centre Captain Yann Lardet. The setting sun casted a golden glow on the café, creating a cosy ambience. Guests also got to embark on a special preview tour of the AATC training facilities and simulators before returning to the Lantern to sample delightful morsels and cocktails with an Italian twist.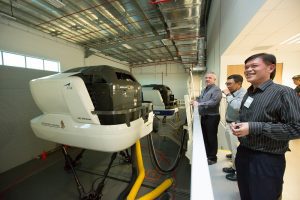 The evening ended on an even brighter note, with ten lucky guests walking away with dining vouchers during the Lucky Draw, with prizes generously sponsored by the Terminal Café Lounge.
AAIS extends our deep appreciation to Airbus Asia Training Centre, the Terminal Café Lounge for their hospitality and Workforce SG for support of the event.