Additive Manufacturing for Aerospace – Industry Roundtable
July 24 @ 9:00 am

-

11:30 am
Event Navigation
Register
The aviation sector has recently heralded the usage of Additive Manufacturing (AM) as a game-changer, promising performance and cost benefits.  In line with our vision of "An Innovative Aerospace Community for a Sustainable Future", AAIS is partnering with the National Additive Manufacturing Innovation Cluster (NAMIC) to promote a Joint Industry Programme (JIP) towards developing certified components through AM. The objective of this JIP is to equip industry members with the necessary skills, and focus on manufacturing parts utilising AM as part of the MRO ecosystem. The programme will be supported by government agencies CAAS and WSG.
INDUSTRY ROUNDTABLE ON ADDITIVE MANUFACTURING JIP
As a forward-looking and innovative organisation, we warmly invite you to an industry roundtable to discuss the Additive Manufacturing JIP.
Event Details
Date:     Tuesday, 24 July 2018
Time:     9.00am – 11.30am (registration starts at 9.00am)
Venue:   SAP Business Centre – Level 3, JTC Aviation Two @ Seletar Aerospace Park
Proposed agenda
– Briefing on JIP for Aerospace AM, by NAMIC
– Proposed training programme for AM Specialists, by NAMIC
– Aerospace AM Community/network, by AAIS
– Discussion
Registration
Please register for the session by clicking the "Register" button at the top left-hand corner of this page.
Registration closes 13 July 2018.
ABOUT THE AAIS-NAMIC ADDITIVE MANUFACTURING JIP
Desired Outcomes 
1. Training of AM specialists
2. Certification of JIP AM part/processes to relevant technical standards or aviation regulations
3. Develop guidelines for facility and process control, fabrication, testing for AM parts/processes
4. Participants to develop knowledge of certification process for aerospace components/processes
5. Foster development of the aerospace AM community
Programme Structure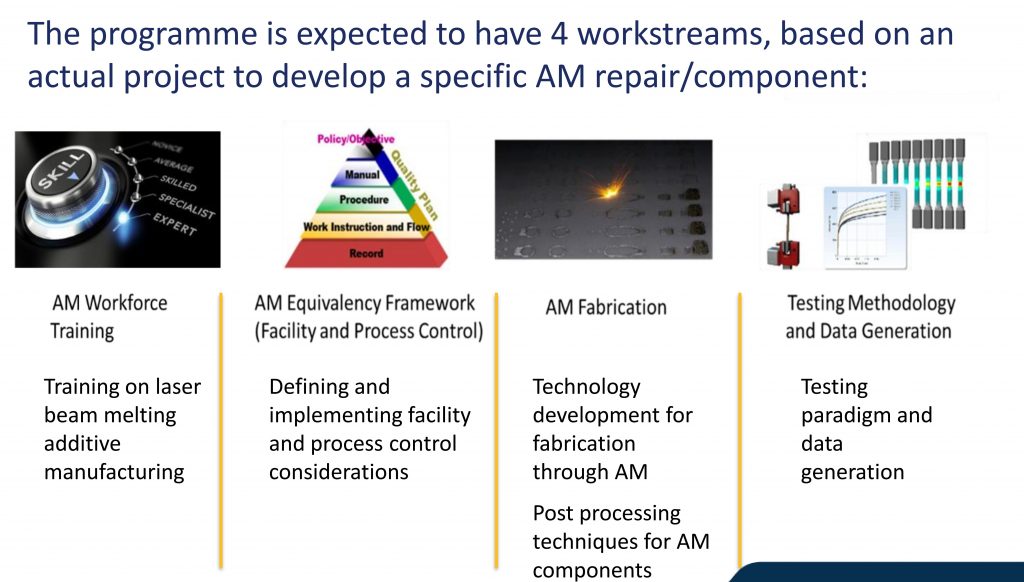 Proposed Training Programme
The objective of this training program is to lower the barrier of entry for local aviation companies to assess the utilization of AM as a viable manufacturing means for MRO parts. This training is partially funded by WSG will be offered to all parties with an interest in AM for aerospace. The training programme will be finalised with inputs from roundtable participants.
Download Training Proposal here
Co-organised by:
With the support of:
Related Events